New shots of the HTC Droid Incredible 4G surface showing off Verizon and LTE brandings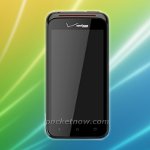 A couple months ago, we first got wind about a mysteriousHTC smartphone that had the characteristic design traits of the popular DroidIncredible line. At first, it was believed to be the Droid Incredible 3, but itsoon became known as the HTC Droid Incredible 4G. Well people, we'regetting yet some juicy information regarding this device thanks to a few newphotos.
First and foremost, the first set of new images show off thehandset in the wild, where we get a clear look at the handset's Verizon and 4GLTE brandings. In terms of design, it also looks similar to the HTC Rezound aswell – mainly because of the layout of its buttons and the design of the rearcover. Furthermore, one of the images also tells us that this is sporting HTCSense 4.0 on top of Android 4.0 Ice Cream Sandwich out of the box.
With the second image of the handset, it's nothing more thana rendered frontal shot, which so happens to match up to the photos of thehandset in question. Again, we can see that the handset boasts the same threecapacitive Android buttons we've been seeing on other HTC devices – like theOne series.
As for the specs, it's alleged to feature a 4-inch or sodisplay, 1.2GHz dual-core Qualcomm Snapdragon processor, 1GB of RAM, 8GB ininternal storage, microSD card slot, 8-megapixel rear camera, VGA front-facingsnapper, NFC, Beats Audio support, and that always lovable 4G LTE connectivity.
Since this is a Big Red bound device, it obviously packsalong some of the usual red accents we tend to see from the Droid Incredibleline. Finally, it's speculated to cost approximately $99 to $149 with a 2-yearagreement, which should easily put it in a competitive price point. So far, there'sstill no word regarding a potential release date, but seeing that CTIA is thenext big show, we might hear more about it then.
source: Android Police & PocketNow