New research underlines dwindling consumer interest in Apple Watch
75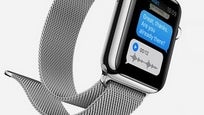 The Apple Watch hit the ground running when pre-orders began on April 10th, but the findings of one research company suggest that consumer interest in the device has since steadily waned. Sampling from the e-receipts of around 14,000 U.S. online shoppers using its services, Slice Intelligence believes that more than half (just under 1.5 million) of the estimated 2.5 million Apple Watch orders to date were made on April 10th.
Since then, Apple has shifted an underwhelming average of 30,000 units per day, with Slice's research also showing that as of May 15th, Apple is struggling to move more than 20,000 per day.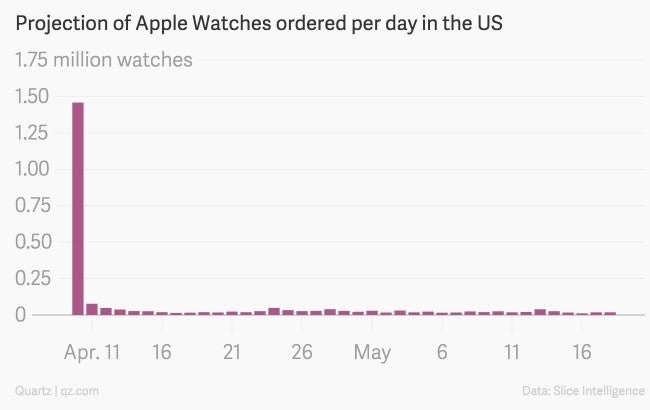 As you will see below, there was a noticeable spike in estimated orders on April 24th, which is when the Apple Watch was made available to the masses. However, since then, things have clearly slowed down, and while it's only natural for any new product to see a decline in sales eventually, the fact that the wearable has dropped off so steeply after scarcely one month in existence may be cause for alarm in Cupertino.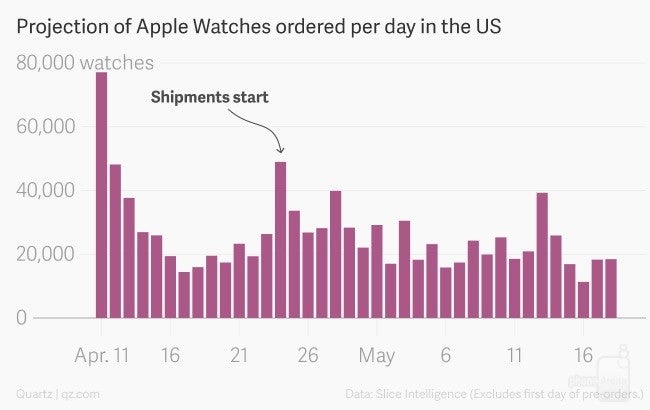 Indeed, KGI Securities' Ming-Chi Kuo, renowned for being well-informed when it comes to Apple-related information,
recently slashed
Apple Watch sales estimates in half, suggesting that the device is lagging quite considerably behind what was originally forecast. Where KGI had previously informed clients that Apple would shift between 20-30 million Apple Watch units annually, he cut that figure down to less than 15 million this week, indicating that the early buzz surrounding the wrist computer is dying out fast.
Slice Intelligence's report and the utterances of Kuo are in contrast to the sentiments of Apple CEO Tim Cook, who said on a recent trip to China that
"the Watch could not be going better."
But even though the device mightn't be selling as well as it should, Apple can still take solace in the fact that it's outpacing the early sales of the first iPod, iPhone, and iPad, while also trouncing sales of smartwatches running on Google's Android Wear.