New information on Samsung phones for AT&T
12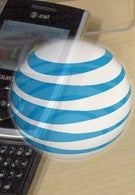 Last week
, we published an article with some facts, rumors and speculation about AT&T's upcoming Samsung phones, including the OMNIA. Today, we'll add a few more details.
We received a juicy piece of information. It confirms that the
i907
with codename Mirage is what the rumors call the BlackJack III, the AT&T version of the
i780
. As the BlackJack II, it is a slim candybar with QWERTY, but has a square 2.55" 320x320 touch-sensitive display, optical mouse and runs on Windows Mobile 6.1 Professional OS. It is said to feature a 624MHz processor, to be a quad-band GSM and tri-band UMTS/HSDPA global phone with Wi-Fi. A 2MP camera will be included in the package which has dimensions of 4.6" x 2.4" x 0.5" and weighs 4.4oz. Verizon Wireless will also get a version of the device, called the SCH-i770. It will be similar in features and design but will be a CDMA/GSM hybrid.
Samsung SGH-A867
. Although the sketch of the back resembles the form of the OMNIA, we guess it is not the AT&T version of the phone, since Wi-Fi support is not mentioned.
A
few days ago
, a spy picture at Radio Shack showed another new Samsung for AT&T. We guessed it is the i627, as it has similar design to the European
i620
. However, the information we received claimed that this is the
SGH-A767 Sangria
, said to launch in late October. It was also approved by the FCC, showing that it features Bluetooth and 3G. The sketch of the back also belongs to a different phone, but we guess it is once again used just for illustration purposes.
The last new information is that Verizon Wireless will get its OMNIA for the Holidays. We're not sure if it will be the i910 though.
If you have any information, please
email us
. You'll be kept anonymous or pointed as the source, depending on your wish. Thanks!