Is Samsung OMNIA coming to AT&T?
12

Let us refresh your memory: the original
Samsung OMNIA
is a GSM with European-only UMTS at 2100 MHz and model number SGH-i900.
FCC has
revealed that there are two phones with similar model numbers, the SCH-i910 and the SGH-i907. The first one of them has a model number that looks like part of the Verizon inventory marking and the sketch in its documents shows what appears to be the back of an OMNIA, so we guess this is the CDMA version of the all-in-one device. On the other hand, the i907 is an AT&T-bound numeric identification and is of the OMNIA (i900) family. However, the FCC sketch of its back shows a completely different device.
So, will AT&T offer the Samsung OMNIA?
There is no official information, but a solid rumor lacks as well. Some people claim that the OMNIA will come to AT&T, meanwhile, others refuse it. One of our readers (thanks Billal!) tipped us that AT&T is testing the i907, but instead of "OMNIA" it is called the "Mirage". It should be coming out on October 07, 2008. Although it is likely for AT&T to use a different name, it is also possible that the model number indicates another phone by Samsung.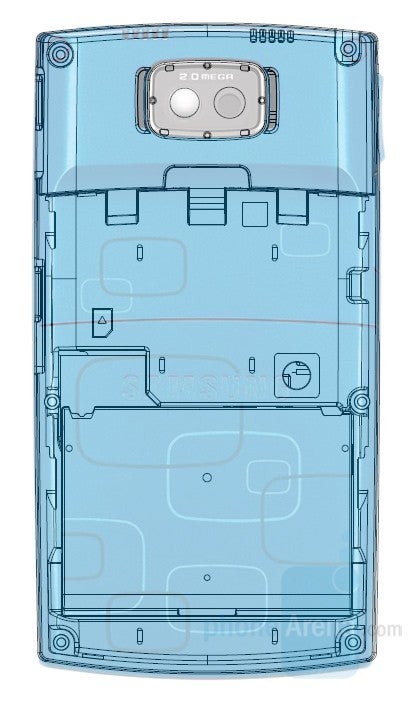 BlackJack II fits the FCC sketch of i907
Another reader claims that he has the i907 and it is not an OMNIA, but another Windows Mobile smartphone with a QWERTY. This reminds us of the rumors about the BlackJack III, which would be based on the
i780
. Yet, it would be more reasonable if it is numbered as the i787, using the original model and adding the AT&T-friendly "7" in the end. It is also possible that it will be a non-touch successor of the BlackJack (i607) and BlackJack II (i617) phones, but the logical number for it would be the i627. However, such model also exists (of course it isn't officially announced), but there are opinions that it will be in slider form-factor, similar to the
i620
. We did our magic and it seems that the i907 FCC sketch corresponds to the BlackJack II. This brings another question: will the BlackJack III has the same back as its predecessor, or Samsung has used this sketch for illustration purposes only…
Currently, we cannot say for sure that the OMNIA is coming to AT&T. However, we do think that it would be logical to use the i907 number for an OMNIA-like phone and guess that the different sketch is because it has been used just for illustration. Still, having no official information, we cannot guarantee this is the real deal.
If you have any other details, please email us at
phonearena@phonearena.com
or using the linked form by clicking here.