New iPhone could indeed be called that, hints Best Buy Mobile stores case shipper
16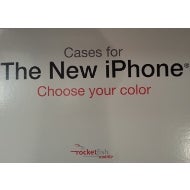 UPDATE: The Dutch T-Mobile also starts today's
press release
about its sixth generation iPhone launch coverage tomorrow with the title "T
he new iPhone is coming
..."
Asked why the
new iPad
was called that, instead of something in the realm of iPad 3, as everyone was expecting,
Apple's Phil Schiller answered "because we don't want to be predictable"
.
He might have been joking, of course, but we were sent a snapshot of a case shipper headed to Best Buy Mobile stores, which clearly indicates "Cases for The New iPhone" above the logo. Our tipster also mentioned the effective days were listed as 9/18-10/27 there.
If the shot is legit, it hints that Apple might be employing the
same marketing scheme for the sixth generation iPhone name
, as it did for the third generation iPad, and simply call its bread-and-butter device "The New iPhone". Now what will it call the 6th-gen next year, when the "even newer iPhone" is released, is anyone's guess.
Thanks for the tip!