These are the new iPhone cases' spring colors, matching Apple Watch bands in tow
8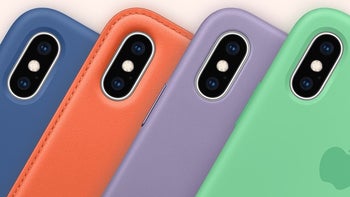 The official
iPhone XS
and
XS Max
case collection by
Apple
just got enlarged by a few entrants, as seven new colors get introduced to the general buying public. As typical, soft microfiber clothing lined the interior to prevent abrasions while the external soft-touch finish helps with the traction in your hand. Apple is quick to add that you can keep your wireless charging habits through the case, too.
New iPhone case colors
Two new Silicone cases that come in Delft Blue and Spearmint, two Leather cases that in Sunset and Lilac, and extra Leather Folio cases in Cornflower and Lilac.
Not only that, but the Smart Battery case for Apple's top-shelf phones can now be had in a Pink Sand if you so desire. Don't ask us exactly how many shades you go down on the color chart to get Delft Blue, though.
With the new spring-colored case options, Apple is now closing in on the twenty hues on offer, and the prices are the same as the existing colors, of course, both for the iPhone XS and XS Max. Apple's official wrappers come with a snug fit around all buttons but leave the bottom exposed for the sake of less bulk.
Apple Watch color bands
Apple is giving some spring love to current and future Apple Watch owners, too, updating the available palette of its bands with a number of colors in every category. A lot of those seem designed to
match
the new iPhone case color options, but there are plenty of extracurricular additions, too, check them all out below.