New iPad Mini video offers a peek from all sides
38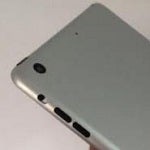 We have seen videos
of the iPad Mini dummy units before
, and while this one does not offer anything new, it does provide some additional perspective about what we may expect.
It also proves that for about $13, it is pretty easy to acquire one of these models. Outside of that, it is somewhat surprising that there is a lack of rumors about this upcoming device. There has been talk about an introduction sometime in October, but with that month nearly upon us, we have not heard or seen much about the new Mini.
It will be quite interesting when Apple does enter the smaller tablet segment. With Amazon's Kindle Fire HD and the Nexus 7 offering very competitively priced, highly capable tablets, the iPad Mini will certainly be facing much stiffer competition. Apple will find itself in an interesting position as the new kid on the block.
Do you think the iPad Mini will make a big splash, especially now that iOS 6 is sinking in and has not generated all the buzz one might expect? Is this the tablet you have been waiting for?
sources:
MacRumors
via
VentureBeat