New iOS app could turn you into the next Justin Bieber
42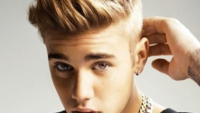 If you're looking to follow the same career path as Justin Bieber, who reportedly was discovered on YouTube by hip hop manager Scooter Braun (not Usher, as the myth would have you believe), you need to install an iOS app called Acapella on your iPhone or iPad. The app turns an acapella performance into a major video production with multi-part harmonies, instrumental backing and rhythm tracks. The app will allow you to share your finished video on social media sites like Instagram, Facebook and Twitter.
Launched just two months ago, Acapella is free for a limited time. The app allows you to record a 60-second video (95% of users' videos run under one minute) although you can pay $1.99 for a three-minute clip. $9.99 will buy you a ten-minute video. With a metronome to keep Bieber wannabes on the beat, the app is producing high-quality music videos.
Already, Acapella is attracting 10 million monthly active users. While the odds are against any of them becoming the the next Biebs (not that the world needs more than one Justin Bieber), it probably won't stop any of them from trying.
While other Mixcord apps are available on Android, there is no word on whether a version of Acapella will be offered to those rockin' Google's open source OS.
source: Acapella (
iOS
) via
NYPost