New commercial for the BlackBerry Torch 9850/60 hits YouTube
11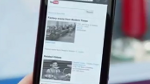 The
all-touch BlackBerry Torch 9850/60, launched with BlackBerry 7 OS
, is exactly what RIM should have launched the BlackBerry Storm 9530 as three years ago. No clicking SurePress QWERTY, a fast single-core 1.2GHz processor with 768MB of RAM and a smooth WebKit browser with a responsive pinch-to-zoom gesture would have been big news had the first touchscreen 'Berry looked like this instead of the half-baked disaster that it was.
While RIM has stayed away from advertising the BlackBerry 7 OS models on television, a recent YouTube video shows
what could end up on the boob tube as an ad
for the BlackBerry Torch 9850/60. The video shows how tight the integration is between the phone's features, BBM and the second-generation WebKit browser. Every thing looks responsive and finger friendly on the 3.7 inch screen. Would this ad sway some fence-sitters to pick up a BlackBerry Torch 9850/60?
source:
YouTube
via
BlackBerryOS