New app will try to help you get over your iPhone addiction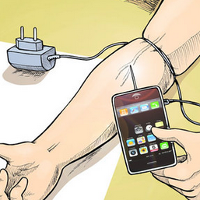 How addicted are Apple iPhone users to their smartphone? Let's just say that some sporting the device feel a psychological withdrawal when they can't use their iPhone because the battery is dead, or because the handset was left at home, or because of any reason that prevents them from using the phone. You don't have to be an iPhone owner to become addicted, but because the app we are going to discuss is available for iOS only, we will concentrate on Apple's iconic smartphone.
Moment is the name of the app that tracks where you go on your iPhone every day, and even shows this to you by sending you a map.The app also keeps tabs on the length of time you spend on your iPhone daily. You can set the app to produce an annoying buzzer when you go over a pre-set daily usage limit. The creator of Moment, Kevin Holesh, was using his phone 75 minutes a day. Now, he has his app set to go off after 40 minutes of usage, and actually enjoys those extra 35 minutes daily that he has opened up by weaning himself from the iPhone.
"When I first started using Moment, I was spending 75 minutes on my phone every single day. I currently have my daily limit set to 40 minutes, so after 40 minutes on my iPhone for the day, I get an annoying buzzer telling me to look away from the glowing box in my hands. That's a good amount of time for me right now."-Kevin Holesh, creator, Moment
Once you open Moment, it runs in the background and doesn't close. And while you might think that you don't need the app, Holesh found that most people are in denial, underestimating the daily time spent on their phone by 50%. The app is free and offers five relaxing and five harsh sounds as a reminder that you have hit your usage limit for the day.
source:
Moment
,
KevinHolesh
via
TechCrunch