New York is considering to ban using cell phones while crossing streets
18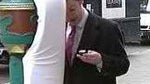 Already, we've seen the
embarrassing consequences
of what can occur if you place all of your attention on your phone while walking, but we've also heard some
dangerous events that have unfolded as well.
If you happen to live in the great state of
New York
, you might one day see a ban on using a cell phone and other devices while simply walking and crossing a street. Seems innocent enough you think? Well, it doesn't appear to be anything except tragic after one pedestrian listening to their iPod was killed as he crossed a street in New York City. This fatal accident, along with other similar events littered across the city, have spurred a movement in getting a law in place that'll ban pedestrians from using connected devices while crossing streets.
Senator Karl Kruger is one of the high profiled politicians who are moving forward in having a law enacted that would fine pedestrians
$100
if they're caught texting on their cell phones while walking. Additionally, it would even apply to someone browsing through their music collection on their MP3 player as they cross the street. Obviously, some can become engrossed in what they're doing and forget that a moving vehicle is on a collision course with them.
Naturally, if the law is passed, it would not only fine those who are blatantly guilty, but it can curb this disturbing trend as well. However, there will of course be others out there opposed to it due to the fact that it can be rather difficult in proving whether or not someone actually broke the law.
source:
CBS News