Texting woman who fell into a fountain is dropping her lawsuit against the mall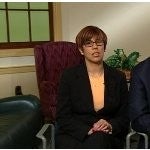 It was only last week when we
reported
on one woman's peril in a mall after she
accidentally fell into a fountain while walking and texting
. The video itself was caught by mall security, but was apparently shown off to others and eventually made its way onto the web. In that short period, the video went viral and the woman who experienced the unfortunate event, 46-year old Cathy Marrero, went on to pursue legal action against the mall.
She soon hired an attorney after finding out that the video hit the web and was experiencing a massive influx of exposure to show off the perils of texting while walking. Granted that she did chuckle about it and said that the video was in itself funny, she was more taken back by how the video was shown off to other people and finally uploaded to the web. Later, she decided to take legal action against the mall citing security concerns and privacy – while raising awareness about the potential consequences of texting. In fact, she even learned her lesson after the incident and said, "
Do not text and walk
."
Soon after she took her story to the press, it was later found that she had a
long criminal record
that dates back to the 90s for various things. More recently however, she was convicted in October 2009 for stealing a co-worker's credit card and making purchases that totaled $5,000. The offenses doesn't stop there because Marrero also has several theft cases on her record as well as a hit-and-run charge.
Once that was out and in the open, Marrero quickly decided to drop the lawsuit she was pursuing against the mall. Finally, the security guard that posted the video was quickly fired from his position. Despite the uncovering of Marrero's past, this whole entire experience just goes to show the consequences while texting on a cell phone.
via
Yahoo
,
Consumerist
, &
Reading Eagle