New York drivers can receive penalty points on their license for using cell phones
5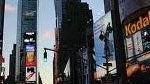 If you happen to live in the
great state of New York
, you might want to think hard the next time you have that subtle desire to pick up your phone while driving. That's because the state is imposing the
stiffest penalties
for being caught with your handset while driving.
Starting today,
violators can now receive penalty points on their drivers licenses
if they are caught using their cell phone while operating a motor vehicle. Meanwhile, the two-point penalty will really make it even tougher on drivers since it'll undoubtedly
increase their car insurance rate
– making it one expensive violation. Now that comes in addition to the
$100 fine
that drivers will need to cough up if they're caught.
Granted that it will seemingly make some driver disgruntled, it should help in spreading the awareness about the consequences of
distracted driving
. So if you don't want your insurance policy to increase, you'd better tuck your cell phone away somewhere hidden from view while driving. No word yet if other states will follow suit with New York's implementation.
source:
Reuters
via
Textually