New York citizens seem to prefer iPhone over Android
52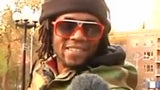 YouTube show Rocketboom has hit the streets of New York City to see exactly where the people's loyalties lie when it comes to mobile operating systems. In this improvised battle between iPhone and Android, it turns out that most people are still preferring Apple's phone for various reasons.
While most people didn't give specific reasons why they prefer one OS over the other, some iPhone supporters did say that the like the iOS-powered handset for its unprecedented ease of use, and that "it just works." Meanwhile, the Android camp mainly voted for the Google OS because of the diverse hardware landscape, allowing manufacturers to produce more affordable smartphones. Some also seemed to prefer Android because of their dislike for Apple.
Of particular interest in the video is one of the interviewed guys who said he likes Android more, because: "
it's a very nice place, nice weather and nice people.
" When asked whether he thinks Android has better apps, the guy answered with something like "
Apps, yes! I hope to get some friends to enjoy the, you know, the very nice time. To walk around... although it's a little bit cold.
" Hilarious, we tell you! But he did seem like a cool dude nonetheless.
And where do your loyalties lie, PhoneArena readers?
Thanks for sending this in!