New York Magazine's Roose calls BlackBerry Z10 "a piece of crap"
41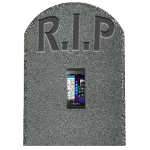 New York Magazine is not the first place that smartphone fanatics go for a review of the latest and greatest handsets (as if we had to tell you where you should go first). But in its desire to capture press attention which leads to buzz, which leads to sales, BlackBerry's PR firm made sure that every publication, even ones not focused on tech, received a
BlackBerry Z10
review unit (we are eagerly awaiting to see what
Highlights
says about the phone in between the regular installments of
Goofus and Gallant
and the
Timbertoes
). Unfortunately, the demo unit received by New York Magazine Tech/Finance author Kevin Roose passed away after four days, which is not exactly what BlackBerry CEO Thorsten Heins would want to see in the press. We don't know if Roose had been assigned to pen a review of the device,but with the death of the demo unit, Roose decided to author a
mock eulogy
to his late Z10.
700,000+ apps in the App Store
) and
BlackBerry Balance
. The latter is actually a great feature as it allows one unit to be used at home and the office and in this era of BYOD, it gives an employee's IT manager the ability to disable and block apps from being loaded without permission. Set the phone to home settings, and any app you want becomes available. This is BlackBerry's way to try to make up for all of those Apple iPhone and Android models that are being brought into the work force.
After 102 hours, the demo unit died and could not be revived even with
mouth to USB
attempted. Obviously frustrated, Roose laid into BlackBerry 10 for its failure to offer popular apps like Instagram, Skype and Netflix. Ironically, this weekend, Skype posted a note on its blog that a BlackBerry 10 version of Skype is coming,
which is being ported from the Android app
. and there are various reports that Netflix is now available in BlackBerry World. Roose said that the whole experience with the Z10 made him feel like he was going back to 2008, a year he loved.
Roose ended up calling the phone "a piece of crap," which might seem overdone. First of all, he could have simply asked for a new unit to replace the one that died. Had he suffered through the launch of the
BlackBerry Storm
in 2008? Now that was a disaster of
biblical proportions
.
"BlackBerry Z10, you were a piece of crap, but you were my piece of crap. And I'll miss you. Whenever I pick up my iPhone from now on, I'll be looking at a solid, functional, well-designed piece of hardware with working apps and the ability to outlive a green banana. But I'll be thinking of you."-Kevin Roose, New York Magazine
We invite New York Magazine readers who want to see a real review on the BlackBerry Z10 to check out ours by clicking on the
link
.
source:
NewYorkMagazine