New OS leaked for Vodafone's BlackBerry Storm 9500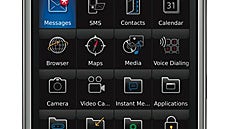 Those BlackBerry Storm owners in the U.S., connected to Verizon Wireless with model 9530, have been able to take advantage of official and unofficial software upgrades. The last official release that came from both RIM and Verizon was 4.07.75 while leaked versions have run as high as .85. Now Storm owners in Britain have to make the same decisions that Americans have been deciding on as a leaked version, 4.07.85, is now burning up the internet for the 9530. Do you wait for an official release from your carrier, or do you put your touchscreen BlackBerry at risk by loading it up with the unofficial OS? The results for U.S. Storm owners have been mixed. While some have been very happy with the performance of the device after installing the unofficial release, others have complained that their phone has slowed down,signal strength has been lowered and applications have dropped off the menu. Improvements were seen in aspects of web browsing and the camera was zippier.
BlackBerry users in jolly ol' England have had their share of problems as the Bold has been nothing but trouble for many right after it was released in the U.K. The problems with that model have been so dire, that speculation is growing strong that carrier Orange is ready to just cut it from their line-up. Because of the heavy media attention being put on the Bold's poor performance in Britain, any potential shortcomings on the first touchscreen BlackBerry are magnified.
If you are a Storm owner, what OS have you been running? How is the phone performance
source:
CrackBerry
via
PhonesReview