New Nexus 7 estimated to ship 3.5 million units this year
6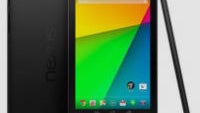 The original Nexus 7 was one of the best selling Android tablets of all time, and according to Google, it represented a full 10% of all Android tablets sold to date. The early estimates for the new Nexus 7 aren't as aggressive, because the Android tablet market is much more mature than it was just a year ago.
DigiTimes has done its usual round of checking with the Taiwan supply chain, and it has found that Asus is expected to ship approximately 3.5 million units of the 2nd generation Nexus 7 tablet by the end of the year. Apparently, a big reason for the lower target number is because China is still mad at Google for pulling all of its servers from the country in 2010, and so
the Chinese government is unlikely to let the device into the country because of the Google co-branding
.
You may remember that Google didn't agree with the Internet policies in China; and, rather than censor search results, Google decided to pull its servers from the country, and automatically route traffic from Google.cn (China) to Google.hk (Hong Kong). Not surprisingly, that decision has angered the Chinese government and has had repercussions. Google reportedly had revenues of about $300 million annually in China, but that number was expected to double in 2010 alone.
Overall, Asus has planned to ship 12 million tablets this year. The company reportedly shipped 5.7 million tablets in the first half of 2013; so, including the 3.5 million Nexus 7 tablets, Asus should also ship 2.8 of its own branded tablets.