New Motorola Moto 360 commercials present a "watch for our times"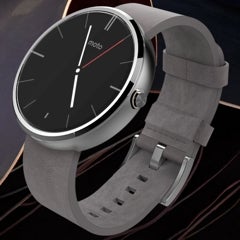 Available since early September, the Motorola Moto 360 was rather hard to find in the beginning, with many customers being unable to buy it. Now, things are definitely better in this regard, and the smartwatch can be acquired not just from Motorola and Google Play, but also from Verizon, AT&T, and T-Mobile.
To remind us of the wide availability of its smartwatch, Motorola today released two new commercials - both very short, and with a funny twist. As you'll see in the videos below, Motorola says that the Moto 360 is not just about class, craftsmanship, and artistry, but also about mundane aspects of our lives. In the end, both commercials conclude that the 360 is a "watch for our times."
The Moto 360 is part of the first wave of Android Wear smartwatches. Prices for it start at $249, and go up depending on what finish and band you're choosing. The smartwatch has a circular design, and can be connected to devices running Android 4.3 or later. You can find out more about it by reading our
Motorola Moto 360 review
.
Motorola is reportedly already readying
a second-generation Moto 360 smartwatch
- this may be released in early 2015, coming with a "modified design."