New Microsoft ad for Windows Phone stars Nokia Lumia 1020, Instagram and OneDrive
24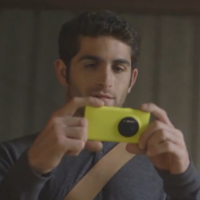 Even though the camera-centric
Nokia Lumia 1020
is
allegedly less than 8 weeks from its death
, Microsoft has seen fit to use the device to star in a new ad about the Windows Phone platform. With its 41MP PureView camera on back, the phone remains the best choice for Redmond to use in an ad that focuses on photography.
In the commercial, we see this guy building a motorcycle, and he wants to keep a photo album showing the bike in the process of being built. For that, he turns to OneDrive, which allows him access to his pictures from his phone, PC or tablet. He also shows how, by posting a photo on Instagram, our hero can share his work with all of his friends, and others.
Of course, Microsoft had to tug on viewers' heartstrings by having our bike builder use Cortana (yes, the phone obviously has been updated to Windows Phone 8.1) to text his dad to meet him at the barn, where the new bike has been built. Surely your eyes grew misty when father and son hugged.
Microsoft has also put up a website featuring the ad, along with information related to the Nokia Lumia 1020, Instagram and OneDrive. First things first, however. Check out the ad from Microsoft by clicking on the video below.
source:
Microsoft
via
WMPoweruser