New Microsoft Surface RT ad has Siri asking "Am I still pretty?"
35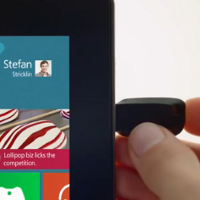 An ad that is in rotation during some NFL games on Sunday, shows a re-match between the
Microsoft Surface RT
and the
Apple iPad 4
. "Oh no, here we go again,"cries Siri and right off the bat, the iPad's lack of a kick stand means that the Apple produced slate needs a hand to stand up. Flash drive? The Microsoft Surface RT has a USB port while the iPad does not.
That Siri is a real kidder. "Oh, snap!," she cries seeing the Microsoft Touch Cover that docks to the Surface RT and becomes a touch style QWERTY keyboard. And while Siri worries that things are going to end badly for her, well, she's right. The 32GB Apple iPad 4 is priced at $599 vs. $349 for the 32GB Microsoft Surface RT.
If you missed the spot, or didn't catch any of the NFL action on Sunday, click on the video below.
source:
Microsoft