New Lumia commercial in the UK shows that a drunken stupor is no match for wireless charging
23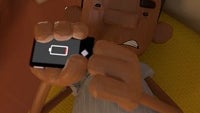 One thing that has been a sore spot with a lot of consumers in the United States is how many of our devices get some features cut out of them for seemingly no reason (or no "good" reason) at all.
Take the Samsung Galaxy S5 as an example. Samsung introduces a nifty Download Booster feature, only to have be
notably absent from the features list
with the AT&T, Sprint and Verizon models.
Another prime example is wireless charging. There are three, large, competing standards for wireless charging, two of which have teamed up to ensure interoperability. Alliance for Wireless Power (A4WP) and Power Matters Alliance (PMA) are taking on Qi. It is like a battle between VHS and Betamax, Blu-Ray and HD DVD.
How it will all shake out in the end is not certain, but Nokia lovers that happen to be AT&T customers in the US find themselves frustrated by the fact that AT&T is backing PMA when Nokia (and Microsoft) are backing Qi. The result? No wireless charging capable Nokia Lumias on AT&T since the Lumia 920. If you want it bad enough, you need to go full retail and third party. Verizon customers have no such worries as Big Red is backing Qi.
How cool is wireless charging? It is all in the eye of the beholder, but Nokia UK has one new ad that shows the indispensability of wireless charging: coming home after a hard night out on the town (and reminds AT&T customers of what they do not have, thus commercial for the UK). You know how it is, you have been taking drunken Instagram shots of yourself and buddies, drunk-texting your boss, and you have used all your battery. What could be easier than simply placing the phone on the night table just before you pass out?