New Jellybean Easter Egg: do a barrel roll with Google Now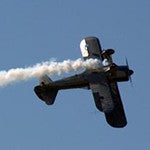 We love a little whimsy in our smartphones, so we had to share the latest Easter Egg to be found in Jellybean. If you happen to have the developers preview installed on your phone (or were lucky enough to get a preloaded GSM Galaxy Nexus as Google I/O) and either launch Voice Search, or open up Google Now (which also has Voice Search). Once you're there, ask it to do a barrel role, and your phone will oblige.
The same thing can actually be done right on Google's desktop website, an Easter Egg added to Google.com last year, and it was clearly popular enough to warrant hiding it on Android 4.1. If you don't have a Jellybean equipped phone to try this out on (and clearly that would be most of us) you can instead watch the video embedded below.
Pretty cool, eh?
source:
Droid-Life