New Galaxy Nexus commercial calls on "social MCs"
13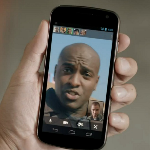 We are definitely liking the ads that Google is producing for its newest pure Google experience phone, the Samsung Galaxy Nexus. The newest ad shows off Google+ Hangouts in an interesting way.
The ad definitely shows how hard Google is pushing to shed the uber-geek label that has been put on the Nexus line of devices. While we're sure there are geeks out there who like to beatbox, there probably isn't too much overlap. This ad is definitely trying to paint the Galaxy Nexus as a "cool" device by showing a pretty unique use. We definitely love Google+ Hangouts, and the wide array of things that can be done in them. Musicians have been doing some cool things in Hangouts, so why not a beatboxing party?
We would have trouble finding 9 people we know who can beatbox, but maybe you guys know some talented folk.
source:
Google Nexus