New E-mail features in Windows Phone Mango demoed in video
5
We've shown you the
social network integration
and part of the
People Hub features
coming to Windows Phone Mango, and now we've got a couple more videos from Microsoft to show off new features coming to e-mail. The new features for e-mail are in linked inboxes, and conversations.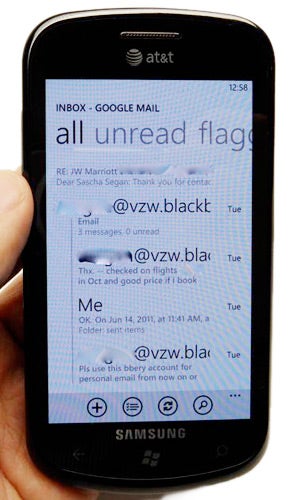 The conversations feature of e-mail is shown by Bill, who apparently loves to go biking. E-mail conversations aren't anything especially new, but Microsoft has made the UI of conversations a little nicer. Unlike Android, where a you have to open the conversation thread in order to get at the various messages, Mango will allow you to get a preview of the thread while still in the inbox and see each message. Even better, Mango will give you control to delete or archive the entire thread or individual messages in a thread.
Another new feature are linked inboxes, not to be confused with unified inboxes as Audrey is quick to note. Unlike in iOS and Android where all e-mails are clumped into one inbox, you can link accounts together. So, rather than having work and personal e-mail mixed together, you can keep just personal and work separate, but still have multiple accounts in the same inbox.
These may not be the most innovative features, but Microsoft has put enough thought into them that they may end up being better than current offerings.
source: Microsoft YouTube
Recommended Stories