Code hints at new BlackBerry handset code-named Monet
6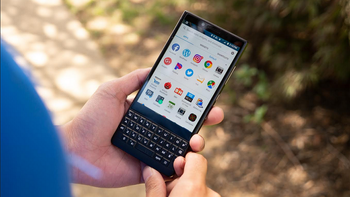 According to CrackBerry
, a new BlackBerry handset might be on the way. Code discovered in certain files contain hints about a phone with the code name "Monet" and a model number of BBJ100. The device will apparently have two variants, a single SIM model and an International version with dual SIM capabilities. The phone could be powered by a mid-range Snapdragon 660 Mobile Platform, which happens to be the same chip running the
BlackBerry KEY2
.
The latest BlackBerry model offered in the U.S. is the
BlackBerry KEY2
Red Edition. The phone has the same specs as the regular KEY2 but features 128GB of native storage. That is double the 64GB found on the original version of the device. The KEY2 has a model number of BBF100-2 which could indicate that the mystery phone will be another variant of the phone.
According to data from Statista.com, BlackBerry had on average a .25% share of the U.S. smartphone market last year.