New Apple iPad app serves German beer on tap?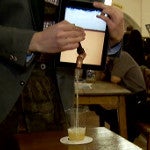 Imagine an app that
turns your Apple iPad into an unlimited keg of beer
that can be accessed by simply attaching a spout to the screen of the tablet. A magician named Simon Pierro tried to get a number of people at Munich's famous "Hofbraeuhaus" to believe that such an app existed. Pierro filled up glasses with the brew that appeared to come right out of the tablet. One guy even laid back and had the beer poured directly into his mouth from the Apple iPad.
If such an app were real, we believe it might just challenge Draw Something as the
number one paid and free app around the globe
. Why, it could change the entire beer brewing industry as we know it. But alas, this obviously is just a trick and judging from the response of many viewers to the video, not a very good one at that. It seems that around the 1:03 mark, the secret is revealed. It might not seem so easy to spot, and while we could give away the trick, well, we'd rather not ruin the illusion for many beer lovers who are running out right now to buy the Apple iPad.
All we will say is that it's definitely an illusion and no, you don't have to be 21 now to buy the device.
source:
YouTube
via
IntoMobile