New Apple Pencil charges wirelessly, attaches magnetically to iPad Pro
9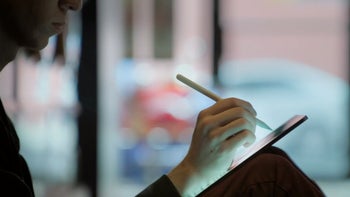 The original Apple Pencil was a cool accessory that opened many possibilities: from taking notes and sketching super-precise stick figures to drawing colorful, visually rich artistic masterpieces. But it wasn't without its issues. Carrying it around wasn't exactly convenient, and the way you charged it – by plugging it into the Lightning port of your iPad – has been ridiculed more than once on the internet.
Enter the new, second-generation Apple Pencil. At a glance, it looks familiar: white (now with matte finish), with a precise tip capable of sensing pressure and tilt. However, the accessory is now flat on one of its sides, and for a good reason. Magnets on the inside allow the new Apple Pencil to attach to the side of the new Apple iPad Pro models. We also hope this design will make it harder to roll off the desk!
The second big change brought by the new Apple Pencil is the addition of wireless charging. Simply sticking the accessory to the side of the new iPad Pro initiates the charging process.
And thirdly, the Apple Pencil 2 (if you want to call it that) can detect taps. This action enables quick switching between modes: toggling between drawing and erasing in Notes, for instance.
Not a whole lot of technical details about the second-generation Apple Pencil are public at this time, so we're not sure if the accessory is any more sensitive than the first-gen. What we do know is that it is only compatible with the latest 12.9‑inch and 11‑inch iPad Pro models.

The new Apple Pencil will go on sale on November 7 for $129. Meanwhile, the first-gen Pencil will remain on sale (for $99) for owners of older iPad models.
Recommended Stories