Need some bling? Samsung Gear S2 Classic Rose Gold and Platinum will launch tomorrow in the US
13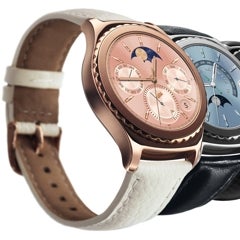 In early January, at CES 2016, Samsung announced two new variants of its Gear S2 Classic smartwatch, both trying to lure customers who want a touch of luxury on their wrists:
Gear S2 Classic Rose Gold, and Gear S2 Classic Platinum
.
Released a few weeks back in China, the Samsung Gear S2 Classic Rose Gold and Gear S2 Classic Platinum are now ready to be launched in the US. Interested buyers will be able to get the two smartwatches starting tomorrow, February 12, both online (via Samsung.com and Amazon, among others), as well as in retail stores across the US (including at Best Buy and Macy's).
The Gear S2 Classic Rose Gold is plated in 18K rose gold, while the other new variant of the smartwatch is obviously plated in platinum. The two devices have the same price: $449.99 - that's $150 higher than the price of a regular Gear S2 Classic (which has been available since late 2015, and currently costs $299.99).
Running Tizen OS (instead of Android Wear), all Samsung Gear S2 Classic variants distinguish themselves with the presence of a rotating bezel that help users navigate through notifications, apps, and widgets. The Gear S2 Classic is compatible with many Android devices (they need to run at least Android 4.4 KitKat, and to offer no less than 1.5 GB of RAM). If you want to take a closer look at the two latest variants of Samsung's smartwatch, check out our
Gear S2 Classic Platinum and Rose Gold hands-on
. And let us know if you're willing to pay $449.99 for any of them, will you?
source:
Samsung