NYC pay phones to be replaced by 'smart screens'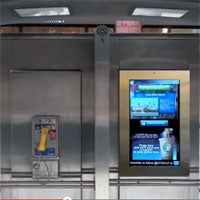 They may seem like a relic of the past, but pay phones still exist – in fact New York City has 12,800 of them. With the franchise contracts on those phone set to expire in October 2014, the city is launching a pilot program to repurpose those booths with some modern day functionality.
Next month the city plans on outfitting 250 old phone booths throughout the five boroughs with 32-inch "smart screens" featuring Internet connectivity. The ad-support screens will provide access to local neighborhood information such as lists of nearby restaurants, local store sales, traffic updates, landmark information, and safety alerts. They will also feature an on-screen link that will allow users to file complaints or request city information.
"The goal is to pilot it and see what the response is," said Nicholas Sbordone, a spokesman for the city's department of Information Technology & Telecommunications.
The hope is to eventually add additional connectivity that will allow users to use Skype, log onto email accounts, and use the booths as Wi-Fi hotspots.
If the thought of sharing a tablet with the entire city of New York skeeves you out, the franchisee that is installing the screens, City24x7, claims that they will be more sanitary than an ATM. City24x7 CEO Tom Touchet says, "They're built to be cleaned with a jet hose. They're waterproof and dust-proof." As anyone that's walked around NYC knows, there are a lot of things they are meant to be cleaned, that aren't, so we'll take that one with a grain of salt and wait and see.
The screens will not cost the city anything and after the trial period, the city will take a 36% cut of all ad revenue from the devices. According to a city spokesman, the city currently collects approximately $18 million a year between coins and advertising on pay phones.
According to the NYPost, the city is also replacing underground pay phones in the subway stations with computer kiosks that will feature 22-inch touch screens with camera for video conferencing, and electrical outlets that will let people charge their phones and other gadgets while on the go.
source:
NYPost