NY Times: Apple's next iPhone to come with all-screen front and virtual home button
71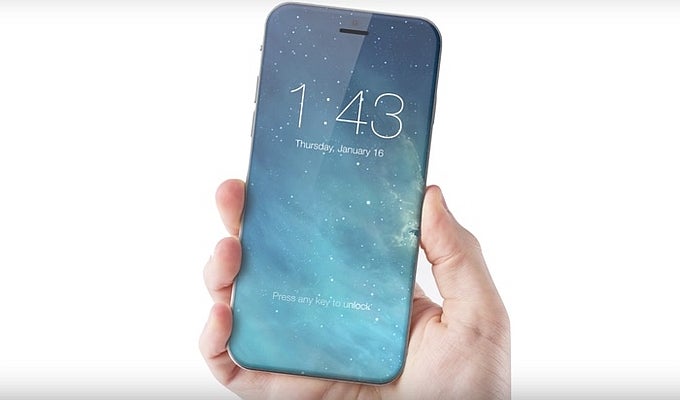 The Apple
iPhone 7
and
iPhone 7 Plus
have yet to officially land in the hands of customers but this isn't stopping the rumor mill from anticipating features that will debut on next year's model.
According to anonymous insider sources quoted in the New York Times' iPhone 7 review, the next iPhone will feature a "full-screen face" as well as an embedded virtual button that will replace the capacitive button introduced on this year's models. Here's an excerpt from the article:
Apple is likely to continue making iPhones without headphone jacks, and next year's iPhone will have a full-screen face with the virtual button built directly into the screen, according to two people at the company who spoke on condition of anonymity because the product details are private.
Before diving into the details, it should be mentioned that this isn't the first time we're hearing about the 2017 iPhone coming with an
edge
-to-edge display and an on-screen button. However, this new NY Times report does serve as some sort of unofficial confirmation of what to expect from next year's iPhone.
Unfortunately, the sources quoted in the report do not go in any further depth. At this point, the biggest mystery revolves around the way that Apple plans to deal with the fingerprint sensor.
If Apple replaces the hardware button on the 2017 iPhone, what will happen with the fingerprint sensor? Ultrasonic fingerprint sensors could be one solution. Another could be the replacement of the fingerprint-based security with an iris-scanning biometric solution not unlike the one that goes inside the Samsung Galaxy Note 7. Based on our experience with iris scanners, however, we're definitely rooting for the convenience of fingerprint scanners.
Previous rumors suggested that the 2017 iPhone, which will mark the 10-year anniversary of the world's most popular smartphone series, will come with OLED display. Other sources suggest that at least one of the three rumored models (standard, Plus, Pro?) will come with a curved screen.
What do you guys think? Are you ready for an iPhone with an edge-to-edge OLED screen and a virtual home button?