NFC payments launch in Britain, starting with small purchases
5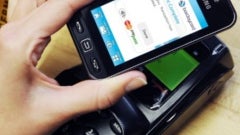 Today, Orange UK and Barclaycard have launched their NFC wallet system, available to customers of both companies. The service is starting with retailers like McDonald's and Subway, limiting purchase amounts to 15 pounds (US$24).
NFC payments are already common in
Japan
and South Korea, but adoption has been a difficult road in Europe and the United States. Richard Clemmer of NXP, the leading NFC chipmaker, explains: "We co-invented the NFC technology eight or nine years ago with Sony. We tried to push it but frankly we just didn't have the influence."
Clemmer points to
Google's Android
operating system as the real turning point: "We'd been working with credit card companies, and it kept being on the roadmap four quarters out." But now that Android has included NFC support, and is gaining worldwide popularity, widespread NFC adoption is far more realistic.
Beyond the mobile payment system, industry insiders expect social media to be one of the largest driving forces behind NFC's adoption. Functions like exchanging friend requests, swapping business cards, and engaging with advertising are expected to be important. But
electronic payments
will be the key.
There is still a question as to the payment amounts allowed with NFC. Orange UK says that they're keeping the payments low, for now, to assess how comfortable
consumers
are, but they plan to raise them eventually. Do you think there should be a cap on NFC transactions?
source:
Reuters
via
ZDNet