NFC check-in at airports being tested by SITA and Orange
3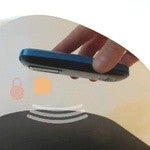 When we come across a story revolving around
NFC technology
, it usually has something to do with
mobile payments
. Well, not today. This time, NFC is attempting to simplify our lives by
enabling hassle-free check-in at airports
. Here is how it works: all the data required for a passenger to board an airplane is stored on the NFC chip. Once the handset is waved over the terminal at check-in, the information gets transferred instantly and securely. Getting through security, boarding the plane, and even entering an airport lounge can be simplified in a similar fashion through the use of NFC communication.
The above concept is being developed by SITA, which is an independent company specializing in perfecting the air travel experience, and European wireless carrier Orange. The project is still at an early stage of its development, but a proof-of-concept pilot program has already taken place returning positive results. What makes their NFC check-in solution practical is that it uses SIM cards with embedded NFC chips, thus allowing a broader range of handsets to take advantage of it. Also, there is no need for data connection, and no special application is required for it to work. Checking in via NFC is even possible when the phone is turned off.
Do you like the concept of NFC check-in at airports? Do not hesitate to share your thoughts in the comments below.