NEC unveils ultra-slim battery: a breakthrough?
19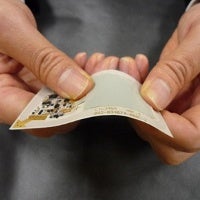 NEC has unveiled its developing a new ultra slim type of battery it refers to as
organic radical battery
(ORB) that can be printed into 0.01-inch (0.3mm) thin circuit boards. The battery could be installed on credit cards and bendable screens, and is expected to be ready for rollout in
2013
.
A 1.18-inch (3cm) square of the ORB battery will be capable of delivering a 3mAh charge. This is enough for updating a small display 2,000 times on a single charge. The charging capacity is around the same as the one on the currently massively used Lithium-Ion batteries.
Except for being extremely thin, the ORB battery is also made
without the toxic heavy metals
required for today's batteries. Instead, NEC's creation uses harmless salts in a polymer gel. The whole project is a work that has been going on for nearly five years.
Digging deeper into the chemistry of ORB batteries, we find out that they use molecular structures with an unpaired electron, often seen as a by-product of thermal and petrochemical reactions. In order to use them in a battery, the radical has to be stabilized.
Back to the real-life application of the new batteries, Samsung's announcement of the first bendable smartphone in 2012 seems like a possible candidate that could benefit from the technology in coming years. Also extremely tiny gadgets that absolutely need to remain thin are the most obvious candidates for the new technology.