NEC reveals GPRS compatible DB7000 mobile telephone at CeBIT
0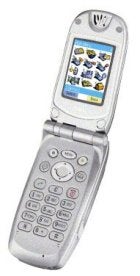 Equipped with a 120 x 160 pixel colour display, the DB7000 has a unique, easy-to-use, icon-driven screen that can accommodate up to 10 lines of text.

Four 'one-touch' buttons are situated at the top of the phone's keypad, allowing users instant access to WAP, SMS, voice record and memo, and the Phone Book.

Instant Internet access is a key feature of the DB7000, which offers users the chance to navigate www.NECmobile.com, the service developed exclusively for DB7000 owners. The service consists of a WEB site, where content can be created by users, and a WAP site, where content (provided free of charge by NEC) can be selected and downloaded onto the phone. Four types of content can be downloaded; Ring Tunes, Wallpaper, Phonebook Pictures and Animations, in order to allow users to personalize the phone according to their preferences.

| | |
| --- | --- |
| | Nec DB7000 front view |

16-channel Ring Tunes with a superior sound quality are played on a polyphonic linear speaker to ensure the highest of standards are maintained. Ring Tunes can be assigned to individuals or groups of people, enabling instant identification.


Another exciting feature of the DB7000 is the option to allocate one of 7 LED colors to an individual, as with Ring Tunes. Once a color has been assigned, the emblem on the top fold of phone flashes, signaling the caller's identity.
Thanks to a large memory, the DB7000 has a sophisticated Phone Book that can accommodate up to 500 locations, with up to seven numbers for each location. In addition, up to 10 CLI pictures can be downloaded and attached to a specific Phone Book address so as to provide instant recognition.
Voice dial, To Do list and a personal organizer are some of the other features available on the DB7000, as well as the choice of two quality games to keep users entertained.