N.O.V.A. 3 is now available in the App Store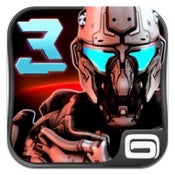 N.O.V.A. 3 is finally here! One of the most popular first-person sci-fi shooters for iOS has landed in its third iteration, with even better graphics and more intense shooting action. The price is $6.99 at launch, but there's a lot to justify it, and for many this would be better than having a freemium model.
First, the storyline is nothing revolutional, but just what you'd expect of a futuristic shooter. In this case, humanity returns to planet Earth after a 10 years, and fights in 10 different levels across the galaxy.
Now what really matters for NOVA is graphics, and Gameloft has again delivered here with real-time shadow and lights, a particle system and ragdoll physics. Graphics are stunning, and show once again just how close we've gotten to console-like quality. The price to pay is a heavy download, though. The game weighs 1.57 gigabytes, so you'd better have a solid Wi-Fi connection when downloading. It's available on iPhone 3GS and up.
All of that is spiced up with multiplayer action represented by 6 modes like Capture the Point, Free-for-All and Capture the Flag on a choice of 6 maps. A neat addition is the option for your allies to jump in the same vehicle as you. Check the demonstration video below and head on to the App Store to get the game. Don't forget to also share how you like what you see in the comments section.