Mystery Nokia slider gets remotely wiped while on video
This article contains unofficial information.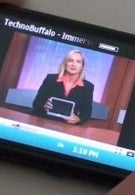 A video was being shot by TechnoBuffalo for a mystery Nokia device with a sliding QWERTY keyboard. The thought was that perhaps it was a variant of the N8 with a physical QWERTY keyboard. 5:45 into the video, the phone was remotely wiped. Negri Electronics, the apparent source of the device, says that private investigators are after them for the phone (did Apple buy Nokia?). According to Negri, the phone has an 8MP camera, 3G frequencies of 850/1900 which would be a fit for AT&T in the States, and offers "ridiculous screen clarity". Since it is running Symbian and Nokia said no more of that after the N8, a "N" series device can be ruled out, and it doesn't appear to be the C7 either. Some how, we believe that there is going to be more to this story in the days ahead. As far what could be discerned about the phone before the wipe, it looks like the browser is sluggish, scrolling is not smooth and the phone as a whole is not responsive. Perhaps this was a mercy killing.
source:
TechnoBuffalo