Munster: Apple's earnings to shrink in first half but rise by year end
6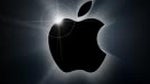 https://www.phonearena.com/Piper Jaffray analyst Gene Munster expects Apple to have a poor fiscal first half with earnings down 14%. But riding on the back of some new product announcements, including the introduction of two versions of the Apple iPhone, Munster sees Apple rebounding to finish the year with a 15% gain in earnings. As a result, the analyst had kept his
"overweight"
rating on Apple with a target price of $767. This morning, the shares are trading at $463.
Munster says that Apple could be prepping a release of a
new Apple iPad
next month, but even if it does release the new slate, he doesn't see it having an effect on the stock one way or the other. Considering the lack of any leaks or rumors about a new iPad, Munster is more inclined to expect an announcement about the next generation of products to be made at the WWDC in June. And that is when he expects Apple's fortunes to turn. That month, he sees the Cupertino based tech giant introducing the seventh-generation Apple iPhone and also forecasts a low cost version of the phone to hit the market in September.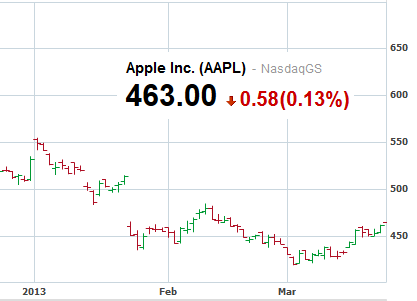 Are Apple's shares tracing out a bottom?
In the December quarter, Munster believes that Apple will announce its look awaited Apple television set and he is also looking for the company to
offer a smartwatch
. The analyst isn't expecting to see big movement in the bottom line with those products, but more of a psychological boost in the stock as Apple shows that it can innovate in the post-Steve Jobs era.
This quarter, Munster has Apple penciled in to sell 35 million units of the iPhone, lower than most on the Street. And while most on the corner of Wall and Broad are forecasting margins in the range of 39% to 40% for the current quarter, Munster's estimates are based on a 38% profit margin for Apple. His estimate of $41.4 billion in sales for the company in the current quarter puts him on the low end of Apple's own forecast. And while he doesn't see a stock buyback in Apple's future, he does see the company hiking its annual dividend 32% from $10.60 to $14 a share.
source: AppleInsider

Piper Jaffray analyst Gene Munster forecasts a rocky start to Apple's fiscal year