Mozilla building an open-source OS for smartphones and tablets
24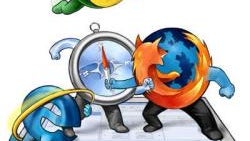 The browser wars have been around for almost as long as the Internet has, but while some mainstream desktop browsers like Safari and Internet Explorer have their own mobile versions backed up by a mobile platform, Firefox is on its own with no operating system behind it. Mozilla, the corporation developing it, however has envisioned a "complete, stand-alone operating system for the Web" named
Boot to Gecko
, abbreviated as B2G. The platform is specifically made for mobile devices.
Ambitious? Yes. Reasonable? Mozilla argues that its argumentation is built on the desire to give developers the opportunity to build
HTML5 web applications
nearing native apps in functionality. And that's where you might remember about the Chrome OS, Google's project with a similar goal. Actually, Mozilla is planning on using a huge chunk of another Google product – Android. While some code of the open-source platform might be used, the company says that big part of the system will be freshly coded.
At its core, Boot to Gecko will be an open-source project, shared as soon as it's written. You might be also wondering about the origins of the name of the project, but it's actually derived from the Gecko rendering engine, running in both Firefox and the Thunderbird e-mail client.
The code is still in its infancy and it doesn't lack competition from big players like Google itself, but also Apple with iOS and Microsoft with Windows Phone. You might be skeptic about the whole endeavor, but there's nothing to be skeptic about when it comes to Mozilla's idealism: "
breaking the stranglehold of proprietary technologies
over the mobile device world," that's all the company wants to do.