User-owned SD and HD films from Google Play Movies & TV are getting a free upgrade to 4K
8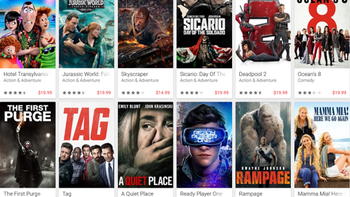 If you live in the U.S. or Canada and own some SD and HD quality films purchased from the Google Play Movies & TV app, your content will receive a free upgrade to 4K once such a version is available from the movie studio. Yes, even if you purchased the title in SD or HD, you will be eligible to stream it in 4K after the upgrade. When you open the Google Play Movies & TV app, you will be notified about the films you own that have been upgraded to 4K.
If you want to build a library of 4K movies, Google is making it easier on your wallet. Starting today, it has reduced the price of many 4K titles below $20. Previously, such films would have set you back between $20 and $25. You can check out the top 4K movies on the Google Play Store Movies & TV app by directing your browser to this
link
.
4K movies can be streamed from the Google Play Store Movies and TV app to 4K Sony Bravia TVs and most 4K Samsung Smart TVs. Google says that it is working to add support for 4K televisions manufactured by LG. Speaking of which, it has updated the Play Movies & TV app found on televisions made by Samsung, LG and Vizio. Google has made the UI more modern to improve the user experience.
"We think watching in 4K should be a no brainer, so we're continuously working to make that a reality. With Google Play, it's now easier than ever for you to watch movies in the best quality possible, no matter which device you're using. And it doesn't stop here, we'll continue to make improvements so you can sit back, relax and enjoy your favorite movies, whenever and wherever."-Google
We should also point out that some users will find a coupon in the Google Play Store Movies & TV app offering a 99 cent rental of any movie.


Rent any movie from the Google Play Store Movies & TV app for 99 cents
Recommended Stories