Move over, Edition: these beautiful, custom Apple Watch timepieces define luxury, cost a small fortune
33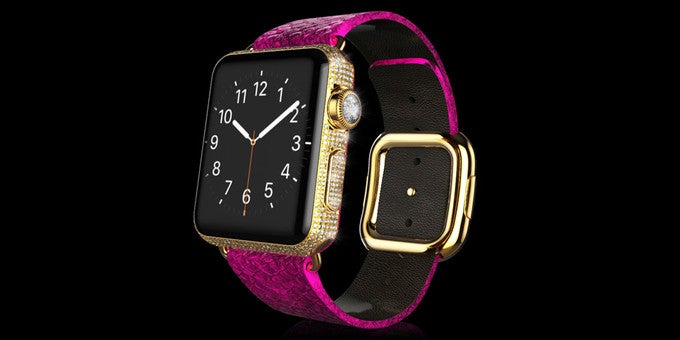 Prior to the announcement of the Apple Watch, the chances of seeing a luxury version of the gadget seemed high, given all the evidence we had at that time. Dipped in gold and/or other precious metals, the pimped variant of Apple's wearable was rumored to carry a price tag of 4 to 5 grand. These rumors weren't exactly spot-on, as it turned out – the Apple Watch Edition
did
get announced, but its price was even steeper than predicted. As of this writing, getting one will set you back between $10,000 and $17,000, assuming you'd rather pass on adding AppleCare+ protection ($1,500) to your purchase. However, a $17,000 Edition variant isn't the most expensive Apple Watch that you can buy, assuming you have the cash and willingness to spend it. Allow us to bring several luxurious Apple Watch models to your attention – models you won't find in Apple's store.
Apple Watch Tempo by Legend, Helsinki
This is what happens when an Apple Watch made of solid 18Kt gold lands in the hands of Legend's master engraver. Pictured you see the Apple Watch Tempo, which is the result of over 30 hours of meticulous engraving by hand. Complementing this beautiful timepiece is a top-quality strap made of crocodile, stingray, ostrich or sharkskin leather, with stitchings of your preferred color. Love the bling of diamonds? Just say the word and Legend's artisans will beautify the Tempo's case with VVS1-grade gems. Optionally, you may also include a 24Kt gold plated docking station to your purchase, made for charging and displaying the luxurious gadget in style. The price of the Apple Watch Tempo isn't listed on Legend's web site, but we're guessing it's somewhere in the realm of 5-digit figures and that it will vary, depending on the design and materials a buyer picks.
Brikk Lux Watch
Ready or not, we're entering six-digit territory. In the gallery below you'll see the Brikk Lux Watch, which costs between $49,000 and $115,000, depending on the kind of bling you want on it. The Brixx Lux Watch Omni, in particular, is made of 18Kt yellow gold, pink gold, or 950 platinum, set with diamonds totaling 11.30 karats. The precious stones are arranged in multiple rows around the face, buttons, and clasp of the luxurious wearable. As for the Lux Watch Deluxe, it can be had in gold, rose gold or platinum, just like the Omni variant. Diamonds totaling up to 2.3 karats make the gadget sparkle.
Luxury Apple Watch designs by GoldGenie
And here we have the most expensive Apple Watch design yet – the Apple Watch Diamond Ecstasy, crafted by GoldGenie. To own it, one has to drop over $170,000 before taxes, which is enough money to buy a new Maserati sports car. The timepiece's bracelet and watch face are made of either 18Kt solid gold, rose gold or platinum, and are encrusted with diamonds. This, however, is not the only Apple Watch design in GoldGenie's collection. The $59,000 Apple Watch Diamond Ecstasy Exotic is worth checking out if you're a fan of premium leathers. Strap options include crocodile and python skins of various colors. Of course, the gold-and-diamonds treatment comes standard with this luxury edition of the Watch. Not much into diamonds? Well, there's also the luxurious Apple Watch Elite, plated in 24Kt gold and complemented by a premium leather strap.