Motorola's U.K. chief quits after being told of Lenovo buy just 30 minutes before it was announced
11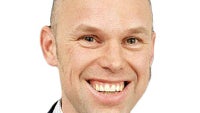 If you were the top executive in your company's U.K. subsidiary, would you be upset to find out that the entire company had been sold just 30 minutes before the deal was announced? That is what happened to Motorola UK's managing director Andrew Morley. Morely was with Motorola for seven years, and was the top man on the totem pole since 2010. That means he lived through
the acquisition of Motorola Mobility by Google in 2011
, and might have made it through the Lenovo deal had he not resigned.
Among Morley's achievements at Motorola was the creation of the "Life Empowered" marketing campaign. Yet, the reward for all of his hard work was to be told about the Lenovo acquisition just 30 minutes before the deal went public. Morley apparently believes that a number of Motorola employees will follow him out of the company. He says that many people stuck around at the company because it was owned by Google. But with that "
incentive
" gone, there is no longer any reason for these people to stay.
That's not to say that Morley doesn't expect the deal to pan out. He expects the deal to be a successful one for Lenovo. In the meantime, Motorola will count on Marcus Frost to handle UK marketing responsibilities while the company searches for a replacement for Morley. He becomes the second big name to leave Motorola this year,
following CEO Dennis Woodside's departure to become COO at Dropbox
back in February.
source:
TheGuardian