Motorola's Sanjay Jha says carriers don't want just stock Android
20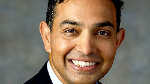 There may be a sizable segment of the Android user base that doesn't like manufacturer UIs and the adverse effects that they can have on devices and the ecosystem as a whole, but Motorola CEO Sanjay Jha has a more big picture view of manufacturer UIs as a whole.
In an interview with The Verge, Jha made it clear that the reason for manufacturer UIs isn't just so each manufacturer can differentiate from each other, but because without that differentiation carriers wouldn't be as interested in Android hardware. Jha said that there simply isn't a way for manufacturers or carriers can make money without differentiation. He didn't specifically mention competitors, but this certainly makes us wonder if this lack of differentiation is a reason behind the slow uptake with Windows Phone, which is otherwise a very nice mobile OS.
Jha also talked a bit about the strategy for Motorola moving forward, and one big point is one that we're seeing more and more with various companies: focus. Motorola doesn't want to floor the market with Moto devices, but release fewer devices which will allow the company to not only focus more on making each device the best it can be, but to also focus the marketing dollars to each release.