Motorola's Moto X is now cheaper: $399 off-contract on all major US carriers
32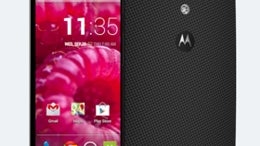 Motorola has a New Year gift for everyone in the US. The company just announced that its
Moto X
can now be purchased for $399 off-contract - from all major American carriers (Verizon, AT&T, Sprint, T-Mobile).
The $399 Moto X is, of course, the 16GB version. The 32GB one now costs $449. Both prices are $100 lower than what Motorola initially charged for the two Moto X models, and include any customization that you may want to apply via Moto Maker (except the bamboo back, which will set you back an extra $100).
We know, the Moto X was sold for as low as $349 not long ago, but that was during limited time promotions, while the newly announced prices are here to stay.
Moto X sales
didn't seem to go too well in Q3 2013: only 500,000 units may have reached customers in that quarter. There is no word on how sales fared in Q4, but the new prices could drive volumes up this year.
As you should conclude after reading our
Moto X review
, this is a very good smartphone, despite not having a 1080p display like its high-end competitors. Being able to get it for just $399 off-contract now
is something
.
source:
Motorola
Recommended Stories