Motorola's Moto 360 smartwatch allegedly lasts a good two days and a half
16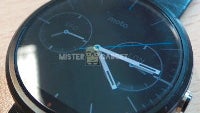 So far, the market response to smartwatches can be described as tepid. A whole bunch of people, in a host of different companies, is trying to figure out why that is, specifically now that smartphone penetration is starting to hit the ceiling in several regions across the globe. Of those giving this new form factor a try, it would appear that Motorola, with its Moto 360, is the one that the public is rooting for the most.
That's funny, though, considering that the Moto 360 is not even available for purchase yet. Yes, the company has made the device official, and details have been creeping out of Motorola's confinement, but we're yet to get a full list of specs, for example. Regardless, it's still true that those of us following the space are excited to see how Motorola's pounce works out, not least because it's on path to be the first to go for a more traditional, circular watch face. As it turns out, if Italian blogger Luca Viscardi, is to be trusted, the 360 is also going to outdo its competitors in another very critical success area: battery life.
According to Viscardi, who has access to a prototype of the Moto 360, the battery life of the smartwatch is some two and a half times better than that of the new LG G Watch, which he claims never gets him through more than a day. That's in the ballpark of two days of longevity, made all the more acceptable by the fact that the Moto 360 will come with Qi wireless charging, and won't have a clunky mechanism that you need to attach to it in order to restore the battery.
If true, and if the Moto 360 also proves to be a problem-free gadget, it seems like Motorola may have a winner on its hand, though, at this point, it's unlikely that a win in smartwatches alone will be enough to improve the company's bottom line. At least in the short term.