Motorola wants you to try a custom Moto X, and it'll only cost a penny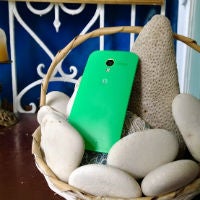 So, right about now, it is fair to assume that Motorola wants to get rid of its Moto X stock before announcing the
Moto X+1
(and before
closing down
the Texas assembly plant), which is why we've seen various
promotions
from Motorola recently. But, it also seems that Motorola might have figured out one of the main barriers to selling the Moto X: customers may not realize how good the phone is without trying it. Now, Motorola has a deal to sort that out as well.
On Monday June 9th, Motorola will take orders to build you a custom Moto X, and for just one penny, you'll get a chance to try out the phone at home for two weeks. Motorola hasn't laid out what stipulations there may be on the deal. For example, it is unclear if the wood backing options will be available (we would presume so) or the engraving option (we would presume not). It is assumed that if you decide to keep the no-contract Moto X when the two weeks is up, you will be charged the full price for the device, which would be $349.99 for the 16GB model.
Motorola may want to reduce stock before the Moto X+1 announcement, but it would be smart of Motorola to design the X+1 in a way that it could reuse the Moto X backings and accent components. Either way, Motorola likely doesn't want to have too much stock in the Texas plant, since it is scheduled to be closed down by the end of the year.