Motorola video teaser for June 9th event takes us back to the days of the Motorola RAZR flip phone
16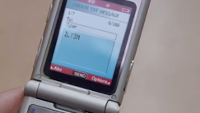 A video teaser released by Motorola today, takes us back to the days when everyone had the
Motorola RAZR V3
flip phone. The video shows a high school circa 2005 when we were on the cusp of a whole new era, but no one knew it back then. Everybody wanted a RAZR, and Motorola found itself on top of the cellphone market.
There was no QWERTY keyboard, and as you can see from the teaser, shooting a selfie required the use of a mirror (although the word didn't exist yet). Making and taking calls, texting, snapping photos (using the 1.3MP camera) and surfing the mobile web were the features of the handset.
At the very end of the spot, we see the Motorola batwings logo with a date of June 9th. On that date, Motorola is expected to unveil a Project Tango device, and a new mobile technology designed by Motorola that will reportedly change the way people use and think about their mobile devices. Project Tango uses a combination of sensors and cameras to allow a phone or tablet to create 3D mapping effects. Users will be able to access indoor navigation.
The event will be live streamed over YouTube on June 9th, starting at 10am PDT. We could see
the unveiling of the new Motorola Moto Z series
, including one model rumored to be just 5.2mm thin. This replaces the former high-end Motorola Moto X series (ironically, while Motorola has replaced the high-end X for the new Z, Sony has replaced its high-end Z for the X).
The closest that Motorola ever got again to the popularity of the Motorola RAZR V3, was in 2009. That was when the OG
Motorola DROID
introduced Android 2.0 to the public, kicking off Androidmania.
Want to feel that warm wave of nostalgia creep all over your body? Click on the video below.
source:
Motorola
via
DroidLife
Recommended Stories