Motorola releases "Windy Day": an interactive short story made with the help of Pixar
2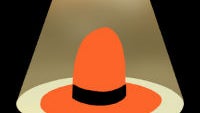 When we first saw the teaser video for Motorola's
Windy Day
, we and others assumed that it was some sort of augmented reality game, because usually that's why you would see people moving their phones in the real world in order to change things on the screen. But, it turns out that wasn't quite right. Motorola has just released
Windy Day
, which is actually more of an interactive short story.
As we told you before,
Windy Day
was made with the help of Pixar alumnus Jan Pinkava who most famously wrote and directed the Pixar short
Geri's Game
, as well as co-directing
Ratatouille.
The story follows Pepe, a small mouse on a mission to retrieve an orange hat similar to the kind worn by the Man in the Yellow hat (of
Curious George
fame).
The twist to the story is that rather than it being a full game where you control Pepe, or a straight video, where you just watch, you are given control of the camera. You can move the camera around by moving your Moto X in real life, and find new things about the story in different spots. Motorola also says that "it's fluid and natural because we adapted the controls from those used for precision planetary landings."
It sounds pretty interesting, unfortunately, you have to have a Moto X in order to experience
Windy Day
. The story comes as part of an update to the Motorola Spotlight Player app available only for Moto X devices.