Motorola quietly hints that they're saying adios to the MOTOBLUR moniker
23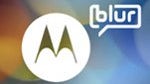 As we've seen evident with the latest batch of Android powered Motorola smartphones, they're running the most up-to-date
light version of MOTOBLUR
that was first introduced by the Motorola DROID X last year. Increasingly, we've seen fewer devices relying on the full-blown MOTOBLUR experience, which requires you to log in with an account before getting things set up.
Well, it appears that the company is quietly steering away from using the
MOTOBLUR moniker
with their products – especially when it wasn't uttered even once in the press materials for the
Motorola PHOTON 4G
and
TRIUMPH
. Moreover, a Motorola spokesperson went on to confirm that the company is steering away from the MOTOBLUR name. In fact, it isn't the first time we've heard of such things, because it was actually mentioned by
Motorola's very own Sanjay Jha last year
.
In actuality, the choice was made primarily due to some
public feedback
they received about it – albeit, some parts of its social networking aspects will continue to live on with future devices.
source:
Engadget
via
TmoNews