Motorola plans its own Android app store called SHOP4APPS?
This article contains unofficial information.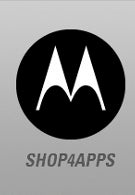 Using Google Search, Android and Me stumbled upon a URL that revealed a Motorola Android based app store called SHOP4APPS. Android and Me tried to load the store onto a CLIQ and the program had to be forced close. A little after that, the Schaumberg based company removed the Android app store completely. The store is designed to be available from any Android powered device and from a PC web browser. SHOP4APPS has a free mobile client that allows for installation of your purchases. The MyLocker section allows you to see the history of the downloads you have made from the store including the name of the app and date purchased. You will have the ability to browse the store from a desktop browser, make a purchase from your PC, store it in MyLocker and then download it onto your phone. You will also get an alert when a new version of one of your current apps is ready to be downloaded, and apps can be transferred to a new mobile phone. Now that the site is down, and the cat is out of the bag, we might have to wait for the official word from Motorola for any more information.
source:
AndroidandMe