Motorola offering $100 credit to 2011 customers whose phones won't see Jelly Bean
29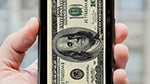 Today's RAZR-studded Motorola press conference was meant not just as an introduction to three new devices, but also the launch of a "the new Motorola". The presentation style was different, there was a live band to warm up the crowd (The Kin…a dig at Microsoft?), a new CEO (Dennis
Woodside) that was introduced by Eric Schmidt (Google's Executive Chairman). But perhaps the most exciting difference on offer for consumers is the chance to pick up a 'Benjamin.

No, Motorola won't just mail you $100 in cash, but if you purchased a Motorola phone in 2011 and it doesn't get updated to Jelly Bean (updates that supposedly will be rolling out shortly), Motorola will give you a $100 credit toward purchasing a newer Moto handset. This strikes us as a pretty big break with the past, when updates were treated like a state secret, and if your phone wasn't supported for any reason you were simply out of luck. This feels like a very Google-inspired change, acknowledging that the software that runs you phone is as important to customers as the hardware it runs on.
There weren't any other details released – they may not have even finalized the list of which devices can be satisfactorily updated to Android 4.1 – but at least you can rest assured that if you want to trade up a device that isn't running the latest version of Android, Motorola will save you some scratch in the process. That sort of recognition of and remedy for past failings is something we'd like to see more of from all phone vendors, and if Motorola keeps it up they may regain some of the brand loyalty they've lost over the past couple of years.